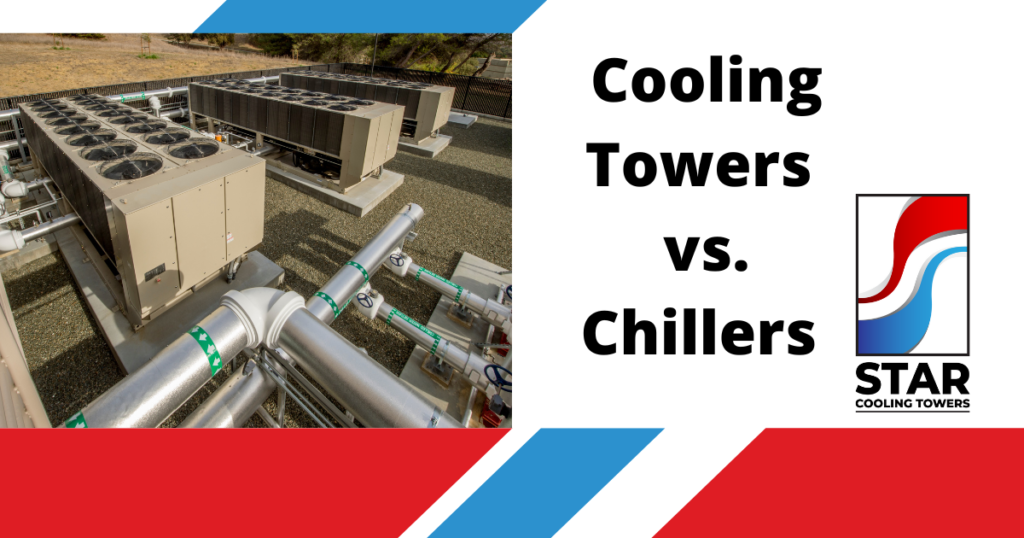 When obtaining equipment designed to provide cooling methods to buildings and processes for industrial or commercial operations, two types that are available are cooling towers and chillers. Both equipment can provide benefits to operations, yet they have different ways of providing cooling conditions and are suitable for different operations.

Chillers
Chillers come in two types, air-cooled chillers and water cooled chillers. Both chillers remove heat from system coolant using a heat transfer process. The main differences are that air-cooled chillers uses air to draw the heat from the system coolant and water-cooled chillers use water.
Chillers have several basic components such as condensers, evaporators, compressors, and expansion valves. Both chiller processes begin with warm water being brought to the chiller and enters the evaporator where the heat transfers over to the refrigerant. The warmed refrigerant moves to the compressor where it increases in pressure and temperature.
From there, the high temperature and high pressure refrigerant enters the condenser. Water (for water-cooled chillers) or air (for air-cooled chillers) surrounds the refrigerant pipes to draw out the heat. Then the heated air or heated water goes into the cooling tower to release the heat outside. The cooled refrigerant enters the expansion valves to reduce the pressure.

Cooling Towers
Cooling towers come in a variety of designs, such as counterflow, crossflow, induced draft, and forced draft. The difference for these towers is in what direction the air flows and how it enters the tower. Cooling towers operate by using air to transfer heat from water out of operations. Components of a typical cooling tower consists of the tower, sprayers, fill materials, air fans, and a water collection basin.
A cooling tower works by having water absorb heat from processes as it moves from the condenser or heat exchanger. The water enters the tower where air is forced through the water. The air will draw out the heat as well as evaporate some of the hot water. The heated air and vapor leave the tower as the cooler water falls into the collection basin and moves back into processes.
Cooling towers are commonly used for commercial operations, hospitals, oil/gas refineries, and power plants. Chillers are found at plastic processing, food processing, and micro-breweries. To learn more about these industrial cooling towers, contact us.